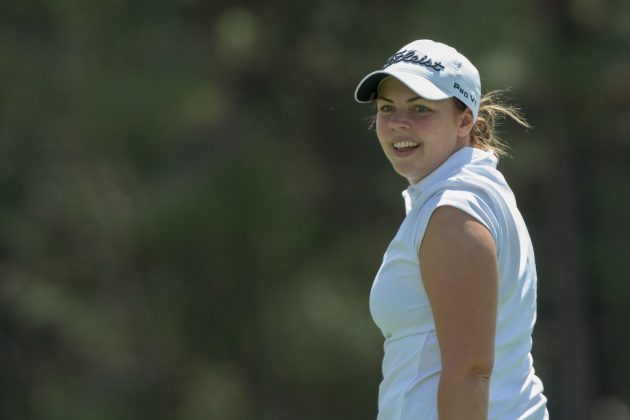 Ragnheiður Jónsdóttir | February. 26. 2018 | 07:00
LET: Valdís Þóra in 3rd Place at the Ladies Classic Bonville in Australia!!!
Icelandic professional golfer, Valdís Þóra Jónsdóttir, from the Golf Club Leynir in Akranes, Iceland, had a marvelous result at the Ladies Classic Bonville in Bonville, New South Wales, Australia.
The tournament took place at the Bonville Golf Resort, February 22nd-25th 2018. To see the beautiful setting of the Bonville golf course CLICK HERE: 
She took 3rd place in the tournament with a total score of 7 under par, 282 strokes (69 70 72 70).
When there were only 6 holes to play, Valdís Þóra was tied in 3rd place along with Daniela Holmqvist from Sweden, England´s Holly Clyburn and Nanna Coertz Madsen from Denmark, all with a score of 5 under par.
Valdís Þóra got two birdies on the last 6 hole stretch on the par-4 15th hole in Bonville and on the par-5 18th hole and ended up in sole 3rd place.
She thereby equalled her best result on the Ladies European Tour, a 3rd place at the Sanya Open in China, last year (2017) and the best result any Icelandic golfer has ever gotten on a major Tour.
It goes without saying that half the Icelandic population was following Valdís Þóra and Icelandic LPGA golfer Ólafía Þórunn Kristinsdóttir, who also took part in the tournament and fought back from place 64 to end up T-14.
Icelanders are extremely proud of the two – who not only made the cut – but ended both up in among the Top-15 players!
It was only the second time that two Icelandic golfers have competed in a tournament on one of the major Golf Tours in the world.
Little Iceland – with only approximately 340.000 inhabitants!!! Valdís Þóra and Ólafía Þórunn made us so proud!!!
To view the end results of the Ladies Classic Bonville CLICK HERE: