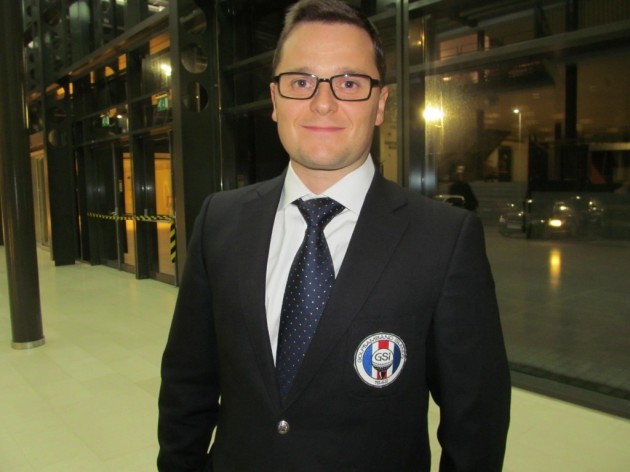 Haukur Örn Birgisson, varaforseti GSÍ. Mynd: Golf 1
Ragnheiður Jónsdóttir | January. 5. 2018 | 10:00
Introducing: The President of the Icelandic Golf Union – Haukur Örn Birgisson
On November 23rd 2013, Haukur Örn Birgisson got elected President of the Icelandic Golf Union.  He had been adherent to the Union, first as an employee  and then on the board continously for almost a decade, the last 2 years as Vice President. In the past 5 years Haukur Örn has served as President of the Icelandic Golf Union he has proven himself and is very well liked. Icelandic golf has never been on such a high as last year, 2017. Last year it was announced and it came as no surprise that Haukur Örn was to become the President of the European Golf Union.
Here is an older interview Golf 1 took just before Haukur Örn got elected President of the Icelandic Golf Union: 
Full Name : Haukur Örn Birgisson.
What Golf Club in Iceland are you a member of?: Golf Club Oddur (GO) and then I´m also a member of Golf Club Flúðir (GF).
Where and when were you born?  I was born in Reykjvík, on December 3rd 1978.
Where did you grow up? I grew up in Breiðholt (suburb of Reykjavík) and  lived with my parents until I was 25 years old and finisched my legal studies at the University of Iceland,  then I moved away from home.
What is your occupation? I am a lawyer.
What is your family status and does anyone in your family play golf?   I have a wife and 2 children ; a one year young girl (now 5 years old) and a three year old boy (now 7 years old). Apart from me , my 3 year (now 7 year old) boy  is the most energetic to play but he has a plastic club, which he loves to play with . He also has two golfsets . I've been trying to get my wife to play golf and have given her some golf clubs – but they remain inside, on the garage floor, unused. I told my wife that if she wants to see her family she better start playing golf because the at golf course thats where my children and I will be in the future , so she can not keep this resistance up indefinitely (laughing). Yet currently she has not taken to golf.
When did you start playing golf ? I started young, 9-11 years old; first because my parents were playing golf in Flúðir  – I played golf occasionally a couple of times a year – but not seriously until the age of 18. One summer, when I was 14-15 years old , I was in the Golfclub Kjölur (in Mosfellsbær) when my dad was a member there, but ever since I've been in a member of Oddur GC and the Flúðir GC.
What made you start playing golf ? My parents were playing golf . Daddy started and thus envoked my interest. There is so much golf around Flúðir where we have a summer cottage.
Which do you prefer parkland golfcourses or linkses? I have to be honest, parkland golfcourses. I 've played more in Spain and Florida then on the Scottish linkses. I´m looking forward to change this and play more in the UK.
What do you prefer match play or stroke play ? Match play . Match plays is such an " ongoing " contest and competition on every hole, while the results in stroke pley can  be settled in the end. Match play is actually a repeated competition throughout the entire game.
What is your favorite golf course in Iceland? Of the 18 hole courses it is the course of my home golfclub, Urriðavöllur, but of the 9-hole courses it is the Geysir course. Then I do also particularly like the Brautarholt golf course and the Westman Islands golf course .
Have you played all (62) golf courses in Iceland? I 've played all the 18 -hole courses (21).
What is your favorite golf course anywhere in the world (outside of Iceland)? TPC Sawgrass and then Prestwick in Scotland – that course has not changed in 100 years, but there are ancient holes; it´s a very special course.
What is the most unique golf course that you have played and why ? The most unique ? I guess it´s Prestwick . There are so many strange and ancient holes and those have not changed. On one par- 3 hole there is for example a hill straight in front of the tee and a round sign pointing to where the putting surface is. Such holes are just not made ​​anymore today.
What is your handicap ? 3.9.
What is your lowest score in golf and on what golfcourse did you achieve it? My lowest score is one of 3 under par on Urriða golfcourse, a 69 while the course was still par- 72 , but it is par -71 today. This was in August 2004, and the first time broke 70.
What is your most major achievement to the present day in golf ? (Here Haukur Örn is too modest when he said: "I have almost accomplished nothing as agolfer. " ) This is of course not correct – sufficient to point to the numerous lawyers Golf Championship, which he won  as the numerous trophys in is law office bear witness of.
Have you ever had a hole in one (interview taken 2013) ?  I was going to have a hole in one this summer, but failed . Dad got one 4 times which irritates me alot although rejoice with him also, of course.
Do you play golf in the winter time (in Iceland)? Not really. Usually I do not start playing golf until the end of April and then quit  late September. My parents play lots of golf (during winter time) in Flúðir. I have a rule that I rather not play golf when the temperature is below 10 degrees Celcius.
What snacks do you have in your bag? Water, a banana and a golf protein bar.
Have you participated in any other sports? Yes, I practiced soccer in the junior league and handball and basketball with IR, Valur and Grótta (Icelandic teams).
What is your favorite food?  My favorite food is game; What is your favorite drink? Appelsínutoppur (Orange soda); What is your favorite music? Rock; What is your favorite movie? " The Empire Strikes Back "; What is your favorite book? The one I'm reading at any given time and this time it's " The Greatest Game Ever Played " by Mark Frost .
Who is your favorite golfer – name one female and one male golfer golfer ? Female : I was always a little impressed with Natalie Gulbis, I watched her in the Solheim Cup in 2007, but I think my favorite is Annika Sörenstam . Favorite male golfer : David Duval .
Who´s in your dreamteam? Me and …. David Duval , Tiger and my wife – given that she started playing golf .
What's in the bag and what is your favorite club ? All my clubs are Titleist. My favorite is my 52° Vokey wedge – I feel I can get the my best shots with it.
Have you been to a golf teacher and taken golf lessons ? Yes  my golf teachers have been Magnus Birgisson and Derrick Moore .
Are you superstitious ? No, generally not. But perhaps a bit; I mark my golfballs always the same and put them in the same position when I putt.
What is your main goal in golf and in life ? In golf , it's to get a hole in one and become President of the Icelandic Golf Union – In life it is to be a good dad .
What do you like best about golf ? Companionship – getting a chance to spend 4-5 hours with friends.
How high a percentage do you estimate the mental part of your golf to be ? 80 % – My game depends entirely on how I'm feeling in each case.
Finally : Do you have any good advice that you can give the rest of us ? Watch the ball.