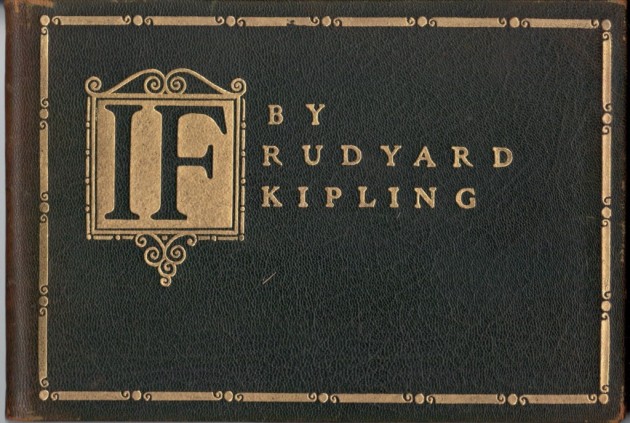 Ragnheiður Jónsdóttir | apríl. 22. 2016 | 12:00
Ljóðskáldið Rudyard Kipling og golf?
Við á Golf 1 erum skáldleg, sum okkar reyndar gangandi skáld. A.m.k. eru ljóð í miklu uppáhaldi. Eitt af uppáhaldsskáldunum er breska ljóðskáldið og rithöfundurinn Rudyard Kipling, sem á sama afmælisdag og Tiger Woods, 30. desember.  Að vísu fæddist Rudyard nákvæmlega 110 árum fyrir daga Tigers,  þ.e. árið 1865 í Bombay á Indlandi og dó löngu fyrir daga Tigers, 18. júní 1936.  Flest börn kannast við sögur Kipplings um Mowgli úr Frumskógarbókinni (Jungle Book) en hann var líka fyrirmyndar ljóskáld og er eitt af fallegustu ljóðum hans, ljóðið "If".
Golf 1 rakst á gríngolfútúrsnúning af ljóðinu "If" í nýjasta blaði Golf Monthly, marsheftinu, þar sem frasar úr því eru heimfærðir á golfvöllinn. Grínljóðið, sem reyndar er snilld í sjálfu sér er eftir Bob Marshall Hants, sem er í Blacknest Golf Club á Englandi.
Hér á eftir er fyrst ljóðið If í upprunalegri útgáfu, en síðan kemur grín"version" Hants:
If eftir Rudyard Kippling:
If you can keep your head when all about you
Are losing theirs and blaming it on you,
If you can trust yourself when all men doubt you
But make allowance for their doubting too,
If you can wait and not be tired by waiting,
Or being lied about, don't deal in lies,
Or being hated, don't give way to hating,
And yet don't look too good, nor talk too wise:
If you can dream-and not make dreams your master,
If you can think-and not make thoughts your aim;
If you can meet with Triumph and Disaster
And treat those two impostors just the same;
If you can bear to hear the truth you've spoken
Twisted by knaves to make a trap for fools,
Or watch the things you gave your life to, broken,
And stoop and build 'em up with worn-out tools:
If you can make one heap of all your winnings
And risk it all on one turn of pitch-and-toss,
And lose, and start again at your beginnings
And never breath a word about your loss;
If you can force your heart and nerve and sinew
To serve your turn long after they are gone,
And so hold on when there is nothing in you
Except the Will which says to them: 'Hold on! '
If you can talk with crowds and keep your virtue,
Or walk with kings-nor lose the common touch,
If neither foes nor loving friends can hurt you;
If all men count with you, but none too much,
If you can fill the unforgiving minute
With sixty seconds' worth of distance run,
Yours is the Earth and everything that's in it,
And-which is more-you'll be a Man, my son!
Grínast með If, eftir Bob Marshall Hants:
If you can keep you head whenn all about you
are losing theirs and blaming it on you,
(though, if the hold´s up in the group ahead
there´s very little there that you can do.)
But if you´re always ready for your next shot
when on tee or green, you´re next in turn to play,
then, not to slow or irritate your partners
just hit your ball with mimimum delay.
If you can hit a dream drive without boasting,
but praise your partner´s good shots, short or long.
If you can hit a duffer without moaning,
and not tell all and sundry what went wrong
but sympathise with others doing likewise,
as assuredly, they will do, with a groan.
If you can watch your partner´s ball and mark it,
then help to find it first before your own.
If you can mark your ball and hold the flag for others
then read your putt and strike it right away,
if you may have hit your ball into the jungle
a provisional´s the next shot you should play.
If you sadly , strike the ball into a bunker,
then play it out and rake the sand as new
if you can smile and never show your anger
when your "normal game" is going all askew.
If you try to learn the rules of golf exaxtly
and always strike to stick to them yourself,
but be not to pedantic with your fellows,
(though don´t just leave the rules upon the shelf).
If you can win or lose, cream it or duff it
and treat those four impostors just the same,
then you´ll be like several million others,
and start enjoying this frustrating game.
If you can replace your divots on the fairways
and repair pitch marks on the yielding greens.
If you can keep the score and clearly note it
then dial it in before your egg and beans.
If you putt an practise all the daylight hours
and strike to make your swing sppe even faster,
then dream your handicap´s approaching zero,
but never let that dream become your master:
If you can make your group´s raound a real pleasure,
with encouragement and help along the way,
if you do this you´ll be be best – a "Blacknest golfer" (hér ætti að standa valkvætt t.d.: Keilis golfer)
and warmly welcomed every time you play.
If you try to fill each unforgiving round
with enthusiasm and sense of fun,
yours is the course and everything that´s in it,
and, which is more, you´ll be a "star" my son!
Heimild: Golf Monthly