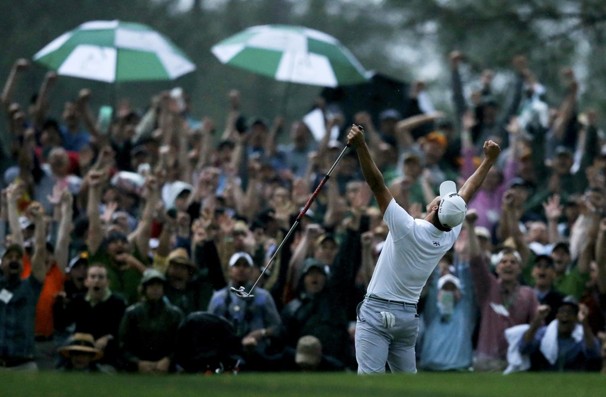 Ragnheiður Jónsdóttir | apríl. 20. 2013 | 13:00
Fyrirsagnir í heimspressunni um sigur Scott
Ástralir hafa alla s.l. viku baðað sig í sigri Adam Scott, sem varð fyrstur Ástrala til þess að sigra á the Masters risamótinu.
Hvernig skyldi heimspressan hafa fjallað um sigur Scott?  Það er alltaf gaman að skoða hvernig aðrir fjölmiðlar taka á svona stórfrétt í golfheiminum. Hér fara fyrirsagnir nokkurra helstu fjölmiðla heimspressunnar í enskumælandi löndum (óþýddar):
DAILY EXPRESS (Bretland)
Masterful show by Scott – Australian triumphs in play-off
DAILY RECORD (Skotland)
Adam Scott banishes Aussie Augusta curse in dramatice play-0ff – AUSSIE lands Green Jacket and first Major title after beating veteran Angel Cabrera in shootout on 10th hole.
DAILY TELEGRAPH (Bretland)
Scott's brilliance soothes nation's angst at a stroke. After Greg Norman's 1996 Masters collaspe, Australia's joy at finally winning the Green Jacket runs deep.
AUGUSTA CHRONICLE
Aussie rules now.  Playoff decides winner second year in a row.
INDEPENDENT (Bretland)
The Masters 2013:  Adam Scott beats Angel Cabrera in Augusta playoff to become first Australian to wear green blazer.
Scott becomes first Australian winner.
GUARDIAN (Bretland)
Adam Scott beats Angel Cabrera in thrilling Masters play-off.
Redemption for Australian Adam Scott at Augusta.  
Angel Cabrera edged out on second hole of Masters play-off
THE SUN (Bretland) –
Augusta Master – Scott is first winner from Down Under.
ADAM SCOTT banished the ghosts of his Open collapse as he ended Australia's agonising wait for a first Masters champion last night.
& in later edition …
Scott can breathe easy after ending choke curse.
ADAM SCOTT displayed a perfect sense of timing as he ended Australia' s Masters curse – his win came on the 17th anniversary of Greg Norman's notorious final round meltdown at Augusta.
THE COURIER MAIL (Ástralía)
Adam´s Shout.
DAILY MAIL (Bretland)
Aussies Master An Issue – The pain of Norman's heartbreak inspired Scott to Augusta victory.
Scott told us he'd birdie the last… and he did! First Australian winner of Masters gives us a genuine Augusta fairytale.
THE MIRROR (Bretland)
Augusta Masters – Adam Scott beats Angel Cabrera in play-off for Green Jacket.
The rain came down and The Duck took to it like a duck to water – but Scott wins it with 15ft birdie putt on second play-off hole
THE TIMES (Bretland)
Adam Scott completes 'Norman conquest' with Masters victory.
HOUSTON CHRONICLE
Scott gives Australia its first Masters Champion.
THE SUN (Suður-Afríka)
Scott won for himself and Australia
DETROIT NEWS
Aussie rules: Adam Scott becomes first countryman to win Masters.
USA TODAY
Great Scot; Tiger falls short
DES MOINES REGISTER (Bandaríkin)

Adam Scott's Masters win one for the record books.
SOUTH CHINA MORNING POST (Hong Kong)
Australian Adam Scott wins Masters in sudden-death playoff.
After several close, agonising defeats for players from Down Under, 32-year-old claims green jacket in thrilling play-off against Cabrera
THE TIMES OF INDIA
Great Adam Scott finally lives up to early expectations.
THE AUSTRALIAN
Scott banishes Masters hoodoo. Adam Scott became an instant national hero today by winning the US Masters, snapping one of Australian sport's greatest hoodoos
IRISH STAR
Adam Scott plans to celebrate Masters truimph with a beer with pal Greg Norman.
IRISH EXAMINER
Scott's Major Breakthough – Australia hails new champion
WALL STREET JOURNAL (Bandaríkin)

Great Scot! An Aussie Finally Wins the Masters
IRISH TIMES
Adam Scott shakes off shackles of past failure with nerveless victory in Masers.  He ends Australia's 77-year wait for a winner at Augusta.
IRISH INDEPENDENT
Adam Scott finds a little extra to see off Cabrera in epic finale
NEW YORK POST
Masters champ wins for Norman and a nation.
BRISTOL POST (Bretland)
Chris Wood: I was delighted Adam Scott won the Masters.

SYDNEY MORNING HERALD (Ástralía)
In Australian pantheon, Scott's first among equals.
WINNIPEG FREE PRESS (Kanada)
Great Scott! Adam Scott gives Australia a green jacket with Masters win over Cabrera
VANCOUVER SUN (Kanada)
Adam Scott the first Australian to win the Masters.  Adam Scott finished the job this time, and put an end to more than a half-century of Australian misery at the Masters.

NEW YORK TIMES
Adam Scott wins his first Green Jacket.
CHICAGO SUN TIMES
Adam Scott becomes first Australian to win Masters.
ALASKA DISPATCH
Great Scott – Adam Scott Ends Australia's Augusta Anguish
CTV NEWS (Bandaríkin)
Roar Down Under:  Celebrations sweep Australia as Adam Scott wins Masters.